You must have read a lot of comments about the sole treadmills. Some might be good, while others are not so good.
But does the sole treadmill meet our fitness criteria? Let's take a look at the breakdown of the sole treadmills.
We can say that the claims of "fastest growing" and "leading manufacturer" are entirely justified for Sole Fitness Treadmills.
The success of the products has to do with how Dyaco produces the Sole treadmill. It all comes down to two factors:
High quality through their use of durable materials
Affordability. 
Sole treadmill prices range from $899.99 to $3499.99.
Sole Fitness has received numerous "Best Buy" ratings from the most reputable consumer review sites and magazines.
Today we are combining some Popular Sole Treadmill Reviews for you –
Sole F63 (Best warranty in the market)
The foldable Sole F63 treadmill is the most popular model thanks to its balance of Affordability and Premium features.
Compared to the other non–foldable treadmills in its price category, the F63 has a 60″ running plane and uses a 3.0 CHP motor.
It is also inclinable to a maximum tilt of 15-degree.
Similar to the other Sole treadmills, the F63 provides 10 workout programs and a Bluetooth for proper workout regime and tracking your data.
Other benefits include Mp3 player speakers, cooling fans, and also a holder for your beverage. You can read detailed review of Sole F63 Here.
Sole F80 (Most Powerful Motor)
This model is one of the Best Treadmills out there.
This treadmill is known for its quietness and powerful engine. If you desire a silent workout treadmill, then this is most likely your ideal device.
You can read detailed review of Sole F80 Here.
Sole F85 (Best Folding Treadmill)
This rigid home treadmill utilizes a 4.0 CHP motor, has a higher weight holding capacity, and a 10.1″ LCD.
The LCD comes with a message center and display for some preinstalled workout regimes.
The track is vast, measuring 60″ inch x 22″ inch. It provides fifteen levels of incline.
A chest strap provided for wireless heart rate monitoring comes along with the Sole F85.
Data supplied during workouts can be saved long-term with the Sole Fitness App. It can also be exported to other mobile applications such as iHealth and FitBit.
It also comes with a sound system for MP3 players. You can read detailed review of Sole F85 Here.
Sole F65
The Sole F65 is best for comfortable running and walking at home.
It has an up-to-date console, an inbuilt phone holder, a USB charging port, and a state of the art Bluetooth audio speakers.
This model utilizes a 3.25 CHP motor, and a 60″ x 22″ power incline track. You can read detailed review of Sole F65 Here.
Sole TT8 (Most user-friendly Technology)
This treadmill is sold with a fabulous residential warranty.
It comes with a 4.0 CHP motor, 3″ inch rollers, and also a two-way track. It also has an impressive automated decline while including the 15 levels of incline.
Some other specs of the sole TT8 are a 10.1" workout screen, MP3 player speakers, a phone holder.
Sole TT9 (Most heavy-duty treadmill)
The Sole TT9 belt is designed using similar patterns of the soles in running shoes. It offers you a top velocity of 12mph and an incline of 15 levels.
It also comes with a 10″ touchscreen display allowing users to use integrated apps or concentrate on their exercise easily.
It utilizes a 3.0 HP AC motor with a commercial-grade high quality 10lb. flywheel around the engine. This flywheel provides the treadmill with smooth and consistent power.
The Sole TT9 is the most substantial device among the Sole treadmills. It can withstand the strains of multiple users going for long hours daily.
These features makes it a good choice for people who are looking for heavy duty treadmills.
Sole TD80 (Desk Treadmill)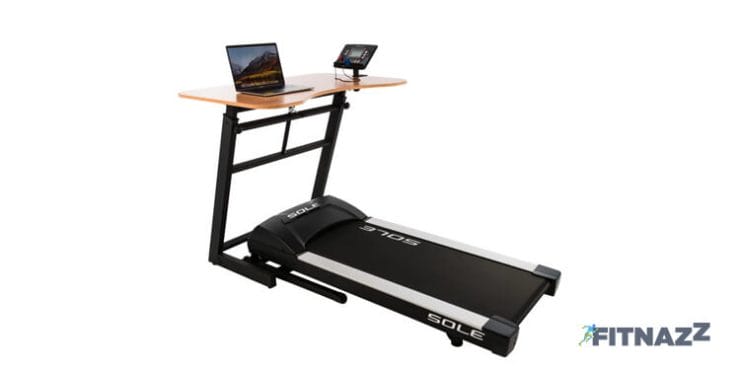 The Sole TD80 is a folding desk treadmill with a large work plane, rigid structure, and a simple user interface.
It's not an outstanding device, but for those looking for long hours of walking while working, it is just perfect, especially since the price is around $1,500.
We have briefly reviewed almost all the Sole Treadmills. Now let's have a look at some other important factors like –
Sole Treadmills Return Policy
When you purchase a Sole treadmill directly from the manufacturer through their website, you get a 30-day evaluation period.
Sole Customer Service department will be responsible for return shipping if it is needed. You are refunded your cost minus just 8% for restocking, unlike most other treadmill brands who expect you to pay for the shipping.
Considering the treadmill weighs hundreds of pounds, that is quite an expense.
Why we love the Sole Treadmill Models
We love the sole treadmills because they come with some unique features.
These features make it easy to operate and a great buy. Some of the features of the sole treadmills are:
1/4-Mile Track
The sole treadmills come with a mile track. This track is useful for tracking our daily progress.
The 1/4-mile track (0.4 km) is displayed around the dot matrix window. The flashing dot indicates your achievement. In the center of the track, there is a lap counter.
Pulse Grip Feature
The Pulse window displays your current heart rate in beats per minute during the workout.
There are the left and right stainless-steel sensors on the front crossbar, which you must use to pick up your pulse.
Pulse values show anytime the computer receives the signal.
The grip sensors may, however, not be accurate when you are running on the treadmill in comparison to Chest Strap monitoring which is available in selected models.
Heart rate Auto-Pilot feature
This unique feature lets the user to instantly go into the heart rate control mode with the press of a button whenever he chooses so.
The HR2 program button is also the Auto-Pilot button. During any program, the user can click the Auto-Pilot button to enter the HRC program.
Your current heart rate will be maintained automatically by the auto-pilot program.
You can press the elevation/incline up or down buttons to change your target heart rate while in the auto-pilot mode.
Powerful Maintenance-Free Motors
Just as with their other fitness components, Sole remains dedicated to the standards of their motors.
They utilize commercial-grade McMillan motors. McMillan motors have been producing industrial engines since 1976.
The motors run effortlessly and are very quiet. This feature is suitable for quiet environment seekers.
Tread belts
On most of their treadmills, they use a double-woven 2-ply belt with four layers. The design is made up of two rubber layers over a middle PVC layer.
It comes with a nylon backing that rolls over the deck and rollers.
The rubber provides the durability, the PVC prevents the belt from over-stretching, and the nylon gives a smooth static free surface to slide over the deck and rollers.
 – Treadmill design pattern helps in reducing knee and ankle strains
 – Simple Bluetooth synchronization
 – Bright, clear HD console
 – High-grade steel frame provides unmatched durability
 – Folding Treadmills making them perfect match for Home Gyms
 – Smart Engineering and great Quality control
Flaws of Sole Treadmill Models
As much as we love the sole treadmill, it comes with some flaws. These flaws are rife with most treadmills.
Mind you, these flaws do not reduce the quality of the sole treadmills, but we have to be thorough in our review.
Some of the weaknesses, along with our recommendations, include –
Erratic Speed
There is probably an issue with your device if the speed is not constant as you use it. This issue can be fixed by checking the owner's manual for the recommended speed setting. You can then set the machine to the recommended settings.
However, do not switch it on yet. Check the treadmill for a few minutes to see if there is any hitching in the belt.
If there is, this is often a sign that you need a new belt. If the machine shuts down, there may be a problem with the motor, or the device may have a faulty circuit.
Slipping Belt on Few Sole Treadmills
If you have any slipping feeling when using your treadmill, it may be that your sole treadmill needs minor repair.
To fix treadmill problems associated with slippage, you need to align and tighten the running belt. Treadmill belts can slip when there is excess friction or if the belt is over-tightened.
We can check if the belt is too tight by lifting it in the center. You should see a gap of approximately two to three inches. If there is none, the belt is likely too tight.
Error Codes
As with most treadmills, the sole treadmill sometimes displays some error codes. However, these error codes can be cleared by going through the manual.
No need to panic and call the engineer just yet. Only do this if the error message continues.
About The Sole Fitness
Dayco, a Taiwanese company, manufacture sole treadmills. Sole Fitness's headquarters is in the U.S. in Salt Lake City, Utah.
Sole Fitness, as a company, was initially targeting specifically the hospitality industry. Their treadmills soon began cropping up in the fitness centers of hotels and cruise ships around the world.
Sole Fitness still works with hotel chains to provide their gyms with fitness products. As of 2020, Sole Fitness is manufacturing some of the most popular treadmills, elliptical machines, stationary bikes, and rowers on the market.
The Final Say So!!
As we have carefully detailed in our review, the sole treadmills come in varieties. Each one is suited to each trainee's needs. 
You can decide if you want a quiet treadmill and go for the Sole F80 or go for the most user-friendly interface model. We are confident that whatever your need is, Sole Fitness provides a treadmill for you.
We hope you will find this brief review helpful. Please let us know in comments below.
Best Sole Treadmill Reviews