Commercial treadmills have to be heavy-duty and strong because they're going to be used a lot more than residential, personal-use treadmills. 
We've gathered together a list of the 5 best commercial treadmills and broken down their specs, features and pros and cons. 
We'll also tell you which treadmill is best suited for your specific requirements.
Life Fitness Platinum Club Series

Life Fitness is one of the most well-known fitness brands in the world.
Using their experience, they have succeeded in creating an amazing, luxury treadmill in the Platinum Club Series. 
Featuring a rugged 4.0 CHP AC motor as well as a 21" LCD touchscreen, the Platinum Club Series combines strength with luxury.
What We Love About
Heavy-duty motor
21" digital media console
400lb weight capacity
Reliable brand
22" x 60" running surface
Flex Deck shocks
12mph top speed
15% max. incline
21" HD console
42 preprogrammed workouts
Limitless workout profiles
Inbuilt fitness tests
Heart rate monitor
Quick start buttons
Lifetime frame warranty
10-year warranty on parts
What made us sad
Price
Relatively difficult assembly
TAKEAWAY
The Life Fitness Platinum Club Series treadmill stands head and shoulders above the competition. It's a superb treadmill and deserves the Best Luxury Treadmill Award.

Check Consumer Reviews
Best Luxury
Sole F85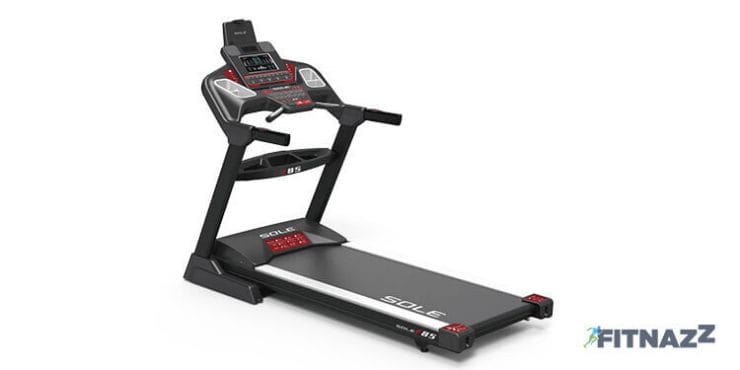 The Sole F85 is not only comfortable, with its Cushion Flex Whisper Deck, but it's also rock solid with a sturdy steel frame. 
The 4.0 CHP motor can drive the belt up to 12mph. It has a decent 10" LCD screen and comes with Ten preprogrammed workouts.
It's often rated as one of the top treadmills by customers and industry experts. 
What We Love About
22" x 60" running surface
400lb weight capacity
Cushion Flex Whisper Deck
Cushioned 2-ply belt
12mph top speed
4.0CHP Motor
Solid steel frame
Easy setup
Folding deck
Lifetime warranty on frame, motor, and deck
5-year warranty on electronics and parts
2-year labor warranty
What made us sad
Limited workout programs
Small Screen Size
TAKEAWAY
The Sole F85 is a tough but comfortable treadmill that can stand up to any runner's demands, and we award it the Best Overall Treadmill.

Check Consumer Reviews
Best Overall
Cybex Total Access Treadmill
Cybex makes great fitness machines.
Their Total Access Treadmill is no different. With a heavy-duty, commercial motor and soft, comfortable deck with intelligent suspension, it's a perfect treadmill for walking, jogging and running for miles.
Plus, it has an extra-long running surface, so it's ideal for taller runners with longer strides.
What We Love About
22" x 60" running surface
15% Incline
400lb weight capacity
IS3 Intelligent Suspension System
12 preprogrammed workouts
12.4mph top speed
5.0CHP Motor
Wireless heart rate monitoring
Great safety features
Reputable brand
10-year frame warranty
7-year parts warranty
1-year labor warranty
What made us sad
No cooling fan
Large footprint
Doesn't fold
Small screen with limited display features
TAKEAWAY
The Cybex Total Access Treadmill is the Best Runner Up Treadmill, perfect for bigger athletes.

Check Consumer Reviews
Best Runner Up
Nordic Track Commercial x11i
With a possible 40% incline and a 6% decline, the Nordic Track Commercial X11i beats all the other treadmills in this capacity.
The larger range of slope allows for extra-intense workouts as well the ability to target specific muscle groups in the legs.
The Reflex Cushioning on the deck as well as dual integrated fans, help keep runners cool and comfortable.
The HD screen gives a great image and you have access to over forty pre-programmed workouts. Check Detailed Review of NordicTrack x11i Here.
What We Love About
22" x 60" running surface
12mph top speed
0 – 40% incline
0 – 6% decline
Reflex Cushioning
Dual cooling fans
Unlimited training options
44 preprogrammed workouts
Strong steel frame
Self-cooling motor
Lifetime frame, motor and deck warranty
6-year parts and electronics warranty
3-year labor warranty
What made us sad
Smaller screen
300lb weight capacity is less than some models
3.75 CHP motor isn't as powerful as other models
TAKEAWAY
The Nordic Track Commercial X11i has an industry-leading incline/decline ability, and we award it the Best Budget Treadmill Award.

Check Consumer Reviews
Best Budget
Precor TRM 425
The Precor TRM 425 is a supremely comfortable treadmill.
With proprietary technology called Ground Effects Impact Control System, an Integrated Footplant Technology, a runner's joints are cushioned and supported to prevent damage and injuries.
With a longer running deck than most models, it feels that little bit safer and you can really push yourself when you're running.
What We Love About
22" x 60" running surface
12mph top speed
0 – 15% incline
0 – 2% decline
350lbs weight capacity
Ground Effects Impact Control System
Integrated Footplant Technology
Touch and wireless heart rate monitoring
Reversible deck reduces maintenance
Lifetime frame warranty
10-year parts and wear warranty
3-year console warranty
1-year labor warranty
What made us sad
Smaller motor than some models (3 CHP)
10 preprogrammed workouts is fewer than most models
No USB port for charging devices
Small (5") LCD screen
No cooling fan
TAKEAWAY
The Precor TRM 425 does everything you need from a treadmill. It's super comfortable and safe, and we award it the Best Value Treadmill Award.

Check Consumer Reviews
Best Value
Buying Guide For Commercial Treadmills
There are some key points to keep in mind when choosing the right commercial treadmill.
Check out the factors you should be aware of when it comes to comparing professional treadmills.
1. Size of Motor
A commercial treadmill needs to be able to withstand being run on for up to six hours, as well as deal with all kinds of different runners' styles and weights.
Because of this, you want a treadmill to have a motor with at least 3 horsepower, if not 4 or 5. Anything under 3, and it won't stand up to its requirements.
2. Deck Size (Running Surface)
The industry standard for deck size is 20" x 60".
Anything less than this is too small. Some of the treadmills on this list are longer, which is a good feature only if you have space.
3. Speed of Commercial Treadmills 
The average belt speed for most commercial treadmills is 12mph.
There's not much need to go over this, but if you go under, you might limit the treadmill's usefulness for some runners.
4. Incline Range
Some commercial treadmills focus on giving the maximum amount of incline/decline range possible, going anywhere between -15% up to 40%.
Most users will be satisfied with a 0% – 15% range, as this provides enough variability to keep the workouts interesting and challenging.
5. Maximum User Weight of Commercial Treadmills
For commercial treadmills, you want to get one with at least 300lb weight capacity, or else you might limit who can use it.
Some commercial treadmills go up to 450lbs and will handle pretty much everybody.
6. Durability
Make sure you get a strong high quality commercial treadmill that will stand up to the heavy amount of use compared to a home-fitness treadmill.
If you make sure you get one that has a steel frame, it should stand up to constant use.
7. Warranty
Make sure your commercial treadmill comes with good warranties.
Most models offer different warranties for the frame, parts, motor, electronics, and labor, so make sure you check each one thoroughly.
8. Features
The features tend to be what separates the basic professional treadmills from the exclusive ones.
Some models come small LCD screens, while others are fitted with large HD screens.
The top-end treadmills also come with Bluetooth speakers and USB ports for charging devices, as well as cooling fans and water bottle holders to keep runners comfortable.
FAQs About Commercial Treadmills
What are commercial treadmills?
A commercial-grade, or professional treadmill, compared to a residential treadmill, is designed to be used up to six hours every day. Due to the heavy usage, the parts have to be stronger and more durable, and the components have to be higher quality. Because of this, they tend to be more expensive than home units, and you normally see them in gyms, spas, health clubs and fitness centers.
How fast do commercial gym treadmills can go?
The industry highest standard for commercial treadmills is 15.6mph.
How much do commercial treadmills weigh?
Commercial treadmills have to be heavy-duty for the amount of use they will experience. They tend to be pretty heavy, weighing anywhere between 200 – 400lbs.
How wide are commercial treadmills?
The size does vary model to model, but on average, commercial treadmills tend to be about 64" long, 28" wide and up to 5′ tall.
How long do commercial treadmills last?
With the right maintenance, most commercial treadmills are designed to last atleast 10 years or 10k miles.
Where to buy commercial treadmills?
Most exercise equipment stores will sell commercial treadmills. Or you can search online. Specific company websites and exercise equipment websites sell commercial treadmills. We will recommend getting one from Amazon for better buying experience.
THE FINAL SAY SO!​
To sum up:
If you want a great all-rounder, the Sole F85 is your best choice.
If you're looking for great value for money, the Precor TRM 425 will not let you down.
Happy running!
Our Other Picks For You