You are quite keen on making good on your workout plans, whether it be training, rehabilitation, or just getting your body in shape.
This said, you are wondering what is the best recumbent bike on the market?
Making the wrong choice could adversely affect your workout plans as regards you been in the right frame of mind and comfortability.
A lot of fitness enthusiastic people have come across this exact dilemma.
In this article, we would provide you with the best recumbent bikes currently available in the market.
This report comes from our extensive research on each recumbent bike as well as getting authoritative information regarding recumbent bikes from a professional fitness trainer as well as a physical therapist.
Schwinn 270 Recumbent Exercise Bike
The Schwinn 270 recumbent exercise bike which comes at a very reasonable price, is quite loved by a vast number of exercise enthusiastic people.
It is, without doubt, one of the best available in the market.
It is designed to make you meet up with your fitness goals, helping to limit discomfort in your body joints as well as joint pressures.
It comes highly recommended because it comes with a "high speed, high inertia" drive system, that allows you to engage in optimal pedaling with little resistance comfortably.
It possesses ten resistance quick speed intensities alongside 25 options for the computer-operated resistance.
The bike pedals are oversized straps made in a three-layered texture to allow you comfortably carry out rotations.
The seats of this recumbent exercise bike are adjustable, making it great for anybody height.
The seat is also made from breathable fabric that comes with a seating that is well padded, giving you excellent support for your spine.
The handlebars are also well padded to provide you with a comfortable grip as well.
Exerpeutic Bluetooth Smart Cloud High Capacity Recumbent Bike
Exerpeutic makes one of the best budget recumbent exercise bikes.
It comes with or without Bluetooth technology and could also come with or without assembling of the parts that make it up.
It includes pedals with seats that are adjustable, well-padded handles and we'll designed straps.
It also comes with an LCD screen that gives you information on your heart rate, speed, calories burnt, and the distance you have covered as you work out.
In order for you to optimally work on your workout intensity, it possesses a control system with an eight-level magnetic tension capability.
The bike comes with a warranty for a full year and a weight limit of 300 pounds.
Diamondback 510Sr Recumbent Magnetic Exercise Bike
The Diamondback 510Sr Recumbent Magnetic Exercise Bike is quite known for its overall comfortability features.
It comes with a sports cooling fan that helps you cool off when you engage in strenuous exercises.
The console layout is well lit up by an LCD screen. The screen helps monitor your heartbeat rate and speed.
It also gives you the option of picking any of the available twenty workouts.
It also comes with connectivity ports for your mp3, speakers, your headphone Jack, and a rack for your magazines.
The seat of the Diamondback 510Sr Recumbent Magnetic Exercise Bike can be adjusted to any height and adequately supports your back with its mesh, padded design.
The handlebars also come well padded for comfortable gripping.
Nautilus R616 Recumbent Bike with the Nautilus Trainer 2 App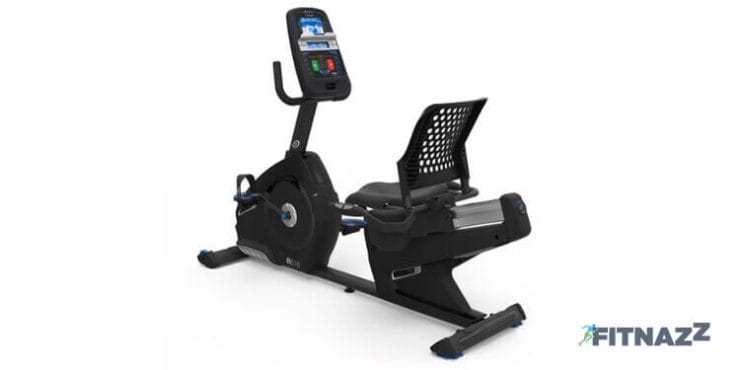 This recumbent exercise bike possesses a console that allows for syncing with Bluetooth technology, the Nautilus Trainer two App and the RideSocial.
The app helps you to track your workout progress, even seeing the results on your Android device.
The Nautilus R616 comes with a very aesthetic design and an adjustable seat that gives support to your backside.
The outstanding feature of this recumbent bike is the onboard computer that comes with it.
This onboard computer comes with pre-loaded workout options that you can safely try out.
You can use the RideSocial feature to compare the results of your workout to compare with other people who use the same bike.
Exerpeutic 400XL Folding Recumbent Bike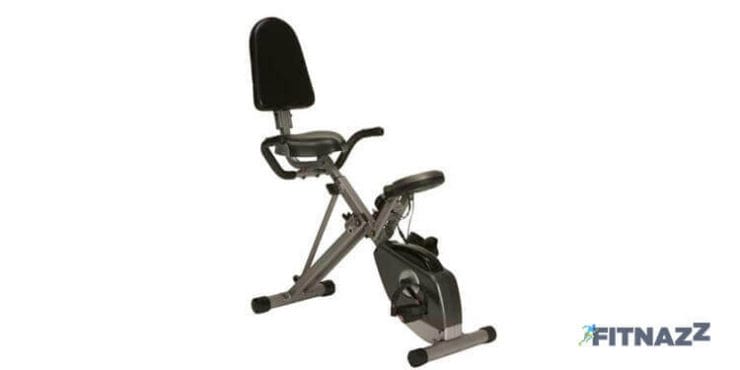 If you live in a house that does not have much space and still desire to get a recumbent exercise bike, you can easily go for the Exerpeutic 400XL Folding Recumbent Bike.
This compact bike can be easily packed up for storage.
Despite its context design, it gives you the same benefits and features you get from a regular-sized recumbent bike.
It has a bodyweight limit of 300 pounds, comes with an LCD screen and quite a large seating cushion.
It comes with a balanced flywheel that operates on a V-belt dual drive system that makes it run very quietly.
The magnetic tension system is also adjustable.
Marcy Recumbent Exercise Bike with Resistance ME-709
If you want to engage in resistance cycling, the Marcy Recumbent Exercise Bike with Resistance ME-709 would be an ideal choice for you.
This particular recumbent bike which can be sold with or without assemblage of its parts comes with eight resistance knob levels that you can easily adjust to intensify your riding.
The pedals are strapped with counterbalancing weights.
The Marcy Recumbent Exercise Bike with Resistance ME-709 has a great design and cokes with a steel tubing that measures 14-inch.
The seat has an ergonomic design that helps to give support to your back.
The bike comes with an LCD screen that gives you your necessary workout progress.
It also comes with a two-year warranty.
Sunny Health and Fitness Recumbent Exercise Bike
You would come across great recumbent bikes native market, but if you are desirous of a recumbent bike that allows you to cross-train and perform the workout on your arms simultaneously effectively, the Sunny Health and Fitness Recumbent Exercise Bike is your best choice.
The Sunny Health and Fitness Recumbent Exercise Bike come with eight gears for resistance training at an optimal level.
The handlebars that are adjustable can be combined with the pedals for your cross-training workout.
You can use the handlebars for a full exercise on your arms alone.
It also comes with a "bike sensor" that gives you heart rate results as you are working out.
You can get this bike with or without assembled body parts, an LCD screen and a holder for your tablet device.
The seat is quite comfortable with great support for your back.
The bodyweight capacity of this bike is 350 pounds.
The Xspec Upgraded Recumbent Foldable Bike
The Xspec Upgraded Recumbent Foldable Bike gives you the versatility of being able to get your workout done on either a standard recumbent bike or a regular bike.
This feature also makes you share your bike with family and friends, as well as with your exercise groups.
The folding feature also allows you to pack it up for storing in your house efficiently.
It is made from heavy-duty steel that makes it have a bodyweight capacity of 220 pounds.
It comes with an LCD screen display, a holder for your tablet, a seat that is quite large to give you the necessary comfort, and eight adjustable resistance gears.
Traits of Best Recumbent Bike
Comfortability and convenience
A standard recumbent exercise bike should give you the necessary comfort you need to carry out your workouts effectively.
The seats should take the pressure off your joints and back alongside pedals that are positioned in a forward manner to allow for smooth rotation.
Physical therapist Mitch Owens, who works with Union Physical Therapy, emphasized on the importance of being comfortable and conveniently positioned while choosing a best recumbent bike.
You get upper back support from the chair, and they're easy to get on and off of. Both are great for mobility issues.
Physical trainer Drew Logan further emphasized this. He noted that "Recumbent is good for low back or load-bearing issues.
Other [upright] styles may make injuries express themselves, but on a recumbent, [your] feet are in front of you."
This allows you to pedal without putting pressure on knees.
More detailed consoles
Recumbent bikes do have a console that is more detailed when compared to other standard exercise bikes in the market.
Even a best recumbent bike would not ideally give you that tough workout as compared to other exercise bikes, it does come with a detailed analysis of your workout progress.
This helps to motivate you the more to engage in body fitness training and workouts. Detailed consoles than other exercise bikes.
We recommend consoles that come with easily readable LCDs.
Resistance levels
A good recumbent bike should come with robust resistance pedal gear levels to allow for easy rotating during your workouts.
Little resistance levels cause you to pedal in jerky movements.
A heavy flywheel makes for an enjoyable riding feeling as they readily absorb your energy output.
A best recumbent bike flywheel should weigh in at 30 pounds to give you smooth, optimal pedaling. At least we recommend the weight to be at least 20 pounds.
Durability and maintenance cost
As with every machine, you have to take into consideration the durability and the costs of maintaining them.
Recumbent bikes are no exception as they could quickly wear out from intensive usage.
Though the parts of a recumbent bike come with a much more extended warranty in comparison with other stationary bikes, the warranty period for parts of the standard stationary bike is three years while recumbent bikes could be as high as five years.
Height consideration
When choosing the right recumbent bike to purchase, you should take into account your body height.
Your legs length is an essential factor in this instance as well as your upper body height.
This factor is necessary because some bikes do not have adjustable levels.
You should take note of where the sensors for your heartbeat rate as well as your water bottle holder are located. Your water bottle should be within reach easily.
Ergonomic fittings
A best recumbent bike should possess a seat that is ergonomically designed to give your back the necessary support and comfort for your body position during riding.
The seat should come with a texture that prevents your body from sliding while you pedal.
It should also be adjusted easily to any height desired.
Console display testing
In addition to the comfortability, a standard recumbent bike should offer you, they should also come with consoles that give you more detailed results.
The LCD screen display should be easily readable, to allow you to know how far you are progressing in your daily workouts.
The console should also come with knobs that can be easily adjusted to increase or decrease your workout intensity.
The Final Say So!!
In terms of you making a choice among the above listed recumbent bikes, we would offer you some factors to consider.
If you are looking at your sticking to your budget, you would be best served choosing the Exerpeutic Bluetooth Recumbent Bike at Amazon.
In choosing for the best recumbent bike to work on your back pain, the Diamondback 510Sr Recumbent Bike at Walmart would give you that relief.
The recumbent bike with the best app is the Nautilus R616 Recumbent Bike at Amazon while the best bike that helps you conserve space in your home is the Exerpeutic 400XL Folding Recumbent Bike at Amazon.
The recumbent bike with the best resistance you can get in the market is the Marcy Recumbent Exercise Bike at Amazon.
To engage yourself with the recumbent bike that offers the best cross-training purpose, you should definitely go for the Sunny Recumbent Bike which is available for an affordable price on Amazon.
For the bike with the best adjustability, we suggest the Upgraded Recumbent Foldable Bike which is also available on the Amazon platform.
Having carried out a thorough research into all the pros and cons of the best recumbent bikes that we listed in this article, we highly recommend the Schwinn 270 Recumbent Exercise Bike available on the Amazon shopping platform.