The NordicTrack Commercial 2950 ranked higher when compared in many ways to other top picks, and it has some notable upgrades.
Some of these upgrades include its 22-inch HD touchscreen and its RunnersFlex cushioning, power incline and decline; cooling fans, water bottle holders and storage areas.
Its full-color associated display is the largest we've seen, and its cushioning is the most flexible.
RunnersFlex allows you to select either a soft-cushioned deck or a workout surface that simulates running on the road. These allow you to personalize your training based on your personal fitness goals.
Let us go through some of its features.
Unique Features
High-Resolution 22″ Touchscreen
The NordicTrack C2950 comes with a  22″ touchscreen control center.
You can use this high-definition display to get absorbed in scenic iFit Coach Workout programs.
Incline and Decline
Treadmill incline training naturally improves your metabolism and tones your muscles in diverse ways.
The NordicTrack Commercial 2950's workout surface can be power-adjusted between -3 percent and +15 percent incline.
It provides you with excitement when you use the NordicTrack C2950 treadmill with iFit Coach Google Maps workouts and personal trainer video workouts.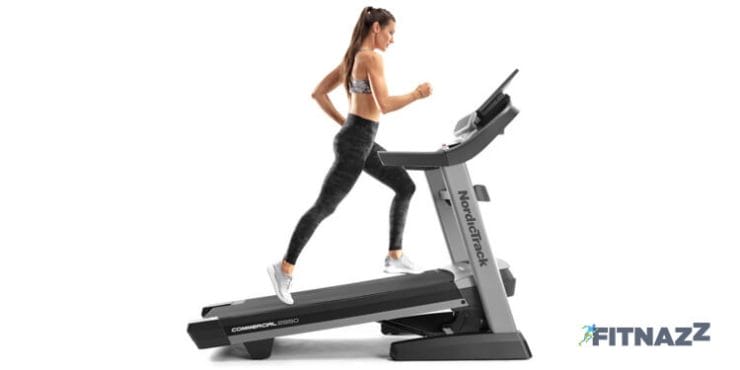 iFit Coach Workouts
This new treadmill is most noticeable for supporting iFit Coach workout programs.
This aspect controls the treadmill's speed and inclines to copy landscapes and help you reach your desired fitness goals.
Amidst others, you may select from an unlimited variety of Google Maps workouts and a secure collection of HD video workouts.
The HD videos let you effectively exercise with expert personal trainers.
Many of the exercises are cardio-only, and some combine treadmill uses with endurance training.
Onboard Workouts
Forty or more workout programs are stored onboard the NordicTrack C2950 treadmill.
These workouts aid different exercise achievements like building speed, burning calories, strength, and flexibility.
High-Powered Motor and Speed
This Treadmill utilizes a 4.25 CHP motor by DurX. It has a top speed of 12 mph.
This high-powered motor can effortlessly provide power through sprints, long runs, and interval training.
The high power does not compromise its quietness, however.
WhisperQuiet Deck
The treadmill deck sucks up the noise of the footfall.
It helps make the NordicTrack C2950 a little to no noise fitness machine and the right choice for home and commercial use.
If you desire a workout in a serene environment, then this treadmill is an excellent choice.
Tread Belt
This treadmill has a sizeable 22″ x 60″ workout surface.
The belt region is long enough to accommodate a slow-moving pace, and it is 2″inches wider than the regular treadmill to provide extra elbow room.
The tread belt is two-ply for quiet operation and durability.
Advanced Cushioning
Its world-class reflex delay system enables you to pick between a road-like workout surface or a secluded deck.
You can turn on a lever to make the switch.
Wireless Heart Rate Monitoring
This high-end treadmill also observes your heart rate during treadmill workouts and helps you exercise efficiently.
The new NordicTrack 2950 machine is packed with a Bluetooth wireless chest strap to enable a steady readout.
This chest strap also works with iFit wearable devices to take pulse readings away from your treadmill.
Being an iFit Coach membership, you can track your heart rate data long-term and see your improvement in chart form.
Bluetooth for Music
Enjoy and keep up the pace with your most-liked tunes! A Bluetooth connection for the MP3 players replaces the previous plug-in port on each Commercial Series treadmill.
Three-inch stereo speakers are attached to the console.
You enjoy your favorite tunes and workout at the same time making it a great addition to your home gym.
Triple Fan Power
Triple-fan is an excellent feature to stay calm and relaxed.
These fans are AutoBreeze; they automatically adjust to your stride.
You can also change the fans' speed yourself. Two fans point to your face, and one helps cool your body accordingly.
SpaceSaver
With the help of hydraulic shock-assist, you can fold the deck upward to conserve floor space, and gently drop it back to the floor when you're ready to start training again.
Unfolded, this NordicTrack Treadmill is about average size for a home treadmill. It has a footprint 79.5″ long and 32.9″ wide
Key Specifications
| Spec | Value |
| --- | --- |
| Motor                                              | 4.25 CHP DurX™ Commercial Plus Motor |
| Running surface                                    | 60" inch X 22" inch |
| Top Speed                                          | 12MPH |
| Slope/ Incline                                     | (-)3% to +15% |
| Foldability                                        | Yes |
| User Weight Capacity                                    | 300 lbs |
| Workout programs                                   | 40 |
| Dimensions                                         | 79.5" L x 39.2" W x 66.6" H |
| NordicTrack 1750's weight                          | 364lbs |
Warranty
The NordicTrack Commercial 2950 Treadmill sale price includes a competitive ten years assurance for the treadmill frame, two years for parts, and one year for labor.
Additionally, NordicTrack sells its treadmills with free delivery and a 30-day money-back warranty.
Frame:                                  10 years
Parts:                                    2 years
Labor:                                   1 year
NordicTrack Commercial 2950 Review Summary
What We Love About
It can hold a user who weighs up to 300 lbs.
While a sturdy treadmill, the NordicTrack Commercial 2950 folds up easily.
Quiet and powerful motor.
Massive 22″ HD touchscreen
One-year free NordicTrack iFit Coach membership
The NordicTrack Commercial 2950 comes with RunnersFlex cushioning for adequate protection.
Intense workout fans are inbuilt.
A wide range of workout programs is built into the machine.
This treadmill provides incline and decline between -3 and 15%
What made us sad
Higher price tag.
Lacks a chest-strap heart-rate monitor.
THE FINAL SAY SO!​
Although this treadmill is more expensive than other average treadmills, it is worth the price.
This treadmill comes with exclusive features like a durable and robust motor, as well as features that ensure you have a comfortable workout such as powerful fans and great speakers. With this all together, there are so many things that endorse Commercial 2950 as your next treadmill. Also, if you aren't buoyant enough to purchase this treadmill outright, NordicTrack offers financing support options to make it easier to bring this excellent treadmill home.Not only that, NordicTrack Commercial 2950 treadmill an excellent machine, but it is also one of the best, comfortable, and quietest Treadmills.So, if you are searching for a great treadmill that will satisfy you and has a variety of workouts, you should go for the NordicTrack Commercial 2950.

Check Reviews & Best Price
Frequently Asked Questions(FAQs)
Where to buy a NordicTrack Commercial 2950 Treadmill at lowest price?
You can get the lowest price on NordicTrack C2950 treadmill on Amazon.
How good is NordicTrack Commercial 2950 Treadmill?
From the listed features above, you can see that the NordicTrack C2950 is an excellent product due to its superb features and workout functions. It is one of the best treadmills.
What size & quality motor is in NordicTrack Commercial 2950 Treadmill?
Typically, when a treadmill comes with a large motor, it is usually a treadmill that makes noise or a louder treadmill. But when it comes to the exclusive NordicTrack 2950, you get a powerful 4.25 CHP motor that operates quietly and does not disturb the rest of your household. Add to the fact that the motor is a DurX commercial plus motor.
How to play music on a Nordictrack C2950?
To play music on the Nordictrack 2950 Treadmill, go to the main menu and select Bluetooth. After this, connect the Bluetooth device to your phone or MP3 player and listen to your favorite tune.
How to Adjust Belt on the NordicTrack C2950?
To adjust the belt, you change the incline of the treadmill, press the Incline increase and decrease buttons or one of the Quick Incline buttons. Each time you press on one of the buttons, the incline will change gradually until it reaches the desired incline setting.
Best Buy Picks For You