We can easily say this is the most economical of all the Sole treadmills models.
The Sole F63 treadmill can be an outstanding inclusion to your home gym.
Even though it is the most affordable treadmill from Sole, the F63 is just as solidly built as some of the more costly models.
Although Sole F63 Treadmill is an entry level treadmill but it also has many premium level characteristics, from its cushioning to the pre-equipped workout programs.
Many people may be worried about the quality of a more affordable treadmill model.
You might presume that the quality is lower. But in the case of the F63, this theory does not apply.
In this Sole F63 Review, we will break down it's key features, specs, pros/cons & our take on this. So let's get started with features –
Unique Features
Robust & Silent Engines
The Sole F63 Folding Treadmill highlights a 3.0 CHP motor, a 60″ inch running plane, and an upgraded console that comes with 10 predesigned training programs.
The solid frame and motor allows you to workout quietly. Robust, long-lasting flywheels cool the engine. The flywheels work for more extended periods than most of its competitors.
Cutting-Edge Technology
The 60" inch running plane offers Cushion Flex Whisper deck technology. This technology reduces the impact on your joints up to 35-40%.
It is an excellent attribute for trainees who have had previous injuries and those who are particular about their safety.
The belt can accommodate up to 350lbs, making it a rigid and dependable treadmill. It has average durability of 5 – 10 years.
Preset Workout Programs
The Sole F63, like other Sole F Series treadmills, comes with a 10-item program menu and two user profiles.
Six of the programs are preset workouts.
These programs regulate the treadmill's tempo and slope with its focus on cardio endurance, burning calories, or toning your muscles.
There are two more heart rate programs which utilize your historical heart rate data to regulate the treadmill's challenge level.
This feature ensures that you remain within a predetermined heart rate zone.
The last two spots are for your convenience.
You get to design workout programs customized to fit your needs.
Speed and Incline of Sole F63
You have the incline and decline options. The machine can be inclined to about 15-degree.
This attribute aids a more rigorous workout with a higher level of calorie burn and toned muscles.
This Treadmill can reach up to 12mph. You can shed pounds quicker.
It's powder-coated steel structure is steadily built to hold at a top speed of 12 mph.
User-Friendly Console and App
Your workout progress displays on a 6.5″ inch LCD Screen.
This is a foldable treadmill which come with EasyAssist folding technology.
This folding is done with the aid of hydraulics. The machine does most of the work, therefore, making the folding less stressful for you.
There is also an available shelf where you can securely place your tablet computer.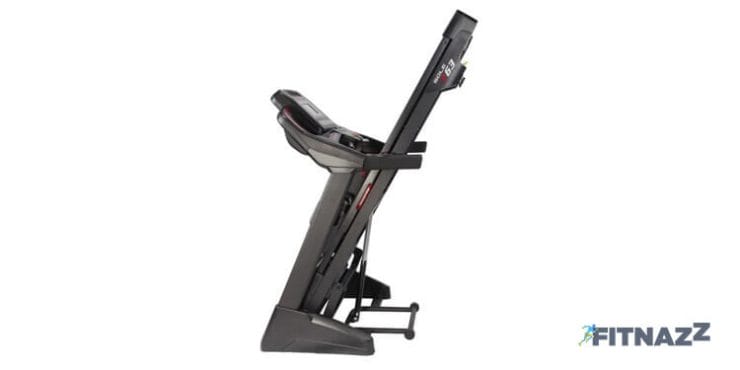 Dedicated Fitness App
We then noticed the Sole F63 comes with its fitness app. You can easily track your progress on your mobile device.
This app is compatible with iOS and Android devices.
It gathers exercise stats, while you can watch Netflix or use other convenient apps during your workouts.
If you want to share your fitness progress, the Sole Fitness mobile app provides this feature.
The Sole Fitness App is enabled to sync with your preferred fitness app so you can keep all exercise data in one place.
Precise Heart Rate Monitoring
We know how important it is to monitor your heart rate during workouts. You have two options for monitoring your heart rate:
– Touch sensors on the handlebars (Pulse Grip)
– A wireless chest strap (this does not come with the machine).
Monitoring your heart rate allows you to keep track of your progress and results more accurately and you can integrate this data with Sole Fitness Mobile app on your Android or iOS phone.
Competitive Pricing
The Sole F63 is one of the best quality, basic folding treadmills priced under $1,000. It's the simplest model in Sole's line of treadmills.
Sold in price range of $899 to $999, the F63 provides mind-blowing value. 
Some Extras
It also includes a USB charging port, Bluetooth audio speakers, and an integrated tablet holder.
You get entertained through Bluetooth audio speakers.
Key Specifications
| Specification | Value |
| --- | --- |
| Motor | 3.0CHP |
| Running surface | 60" inch X 20" inch |
| Top Speed | 12MPH |
| Slope/ Incline | 0 – 15% |
| Foldability | Yes |
| Weight Capacity | 325 lbs |
| Workout programs | 10 |
| Dimensions | 82″ Length x 35″ Width x 57″ Height |
Warranty
The Sole F63 provides a warranty for the device structure, its motor, and electronics. The Sole F63 warranty includes:
– Design:         Lifetime
– Motor:          Lifetime
– Electronics:   3 Years
Sole Fitness utilizes good, sturdy parts in their Sole F63 model, starting from the motor to the structure. It is sure to withstand at least a decade of use. The nature of warranty shows the level of confidence Sole Fitness has in its product.
However, we will like to remind you that an essential factor in the maintenance of your machine is maintaining an ideal environment. You should take care of your device by unplugging it when not in use, cleaning it regularly, and storing it properly.
Possible Issues Associated
Some likely issues of the Sole F63 treadmills include –
Error code
Like most treadmills, the F63 sometimes displays error codes.
However, you do not have to run to the engineer each time this occurs as you can quickly clear the error code by going through the manual and following the provided steps.
It is usually a minor problem.
Incline Error
After a bit of usage, the Sole F63 model might display an error that reads "incline error."
This error can be fixed by removing the safety key. After this, you regulate the minimum and maximum speeds and then begin calibration.
As you can see, this device is very user-friendly and requires little to no engineering input. [1]
What Other Customers says about Sole F63 Treadmill
We took the liberty of going through some online comments about the Sole F63 treadmill.
It has an average rating of 4 stars from about 30 reviews so far. Source : Amazon
From these reviews, we can deduce that customers who purchased the Sole F63 treadmill are happy with the device and that it meets each customer's needs.
Sole F63 Treadmill Review Summary
What We Love About Sole F63
Strong and Silent 3.0 CHP Motor
Vast Incline range when compared to similar treadmills
Fully Compatible with Sole Chest Strap
Bright, Backlit Workout LCD
Provides a Higher Weight Limit of 325lbs
Easily folded and unfolded treadmill
Excellent Warranty Available
What made us sad
Occasional weak airflow from one of the fans located at the top of the treadmill
Little technology feature available
THE FINAL SAY SO!​
Based on our proper findings and consumer reviews, the Sole F63 is the ideal product.
It delivers what it promises. One small drawback is that it may take a few seconds to get it up to your desired running speed. The price is quite reasonable, and sole offers 30-day money-back guarantee to back it.
This Sole treadmill is a dandy deal, and we highly recommend it.

Check Consumer Reviews
FAQs
How Quiet is the Sole F63?
It is whisper quiet. This attribute makes it convenient for use in quiet environments such as your home, workplace and so on. For those who would like to work out during their spare time at work, this is an excellent choice as it does not disturb your co-workers.
Does the wireless chest strap come with the Sole F63 when I purchase it or I need to purchase it separately?
F63 doesn't come with included Chest strap. You will have to purchase it separately. It can be purchased on Amazon or ebay for about $70.
Other Treadmill Reviews