Finding a quality mattress on the market these days is a near-impossible task.
With so many advertisements bombarding you left and right, how are you even supposed to do it?
After all, not many people are experts when it comes to mattresses, so when you see a name like TEMPUR Pedic Flex Supreme, you'll assume it's good.
But is it really?
Well, that's what we're here today to show you, in this TEMPUR Pedic Flex Supreme Review, we'll analyze the mattress looking at all the different factors.
If you don't want to read much, the 2 Minute Summary section will tell you all you need to know.
We'll also look through its sturdiness, motion isolation, and other sleep-affecting factors.
In this review, we'll also look through how well it performs for people at different weight points, or who prefer to sleep in different positions.
 2 Minute Summary
The TEMPUR Pedic Flex Supreme is called that because it utilizes TEMPUR, a revolutionary material made by combining the properties of memory foam with more traditional materials. This makes it what is called a hybrid mattress.
This material was made to balance out the pros and cons of memory foam and make an ultimate mattress material, so to speak.
Largely, the TEMPUR Pedic Flex Supreme lives up to this. It has a removable, washable cover, as well as an excellent cooling system, bound to keep you cool during the night.
The mattress is medium when it comes to firmness, making it perfect for side sleepers, although it isn't half bad for others, due to its hybrid properties.
Parameters Testing
Sturdiness
The TEMPUR pedic flex is a Tempurpedic mattress, meaning it's quite sturdy.
The hybrid materials are also excellently made, and provide an added dose of sturdiness to the mattress.
The company is very confident in this tempurflex mattress, which is exemplified in the fact that they're willing to offer a no questions asked 10-year guarantee.
Besides that, the mattress has an excellent cover, giving it the necessary protection it needs.
This makes it a perfect mattress for those that don't want to be stuck replacing it every few years.
Motion Isolation
The motion isolation of the TEMPUR Pedic Flex brand is unparalleled. Barely any brand can sit on par with this kind of quality.
The motion isolation is almost perfect, if you've got a partner that moves around a lot, you'll appreciate this.
For the uninitiated, motion isolation is essentially just how much motion transfers through the mattress.
In the case of excellent hybrid mattresses like this one, the answer is almost not at all.
Edge Support
The TEMPUR Pedic Flex offers good edge support. It isn't perfect, but it's far better than most memory foam mattresses.
This is the allure of a hybrid mattress, while they may not have the best characteristics of both regular and memory foam mattresses, what they lose out in some areas, they make up for in almost neutralizing the negatives.
While the edge support isn't excellent, for the first few years of use, there should be absolutely no deformation around the edges.
The edge support is also generally sufficient, as long as you don't have a very particular arrangement where edge support is vital, it will be good enough to fulfill your needs.
Sex Quality
Here is another area where this mattress excels. Have you ever felt that regular mattresses are a bit too uncomfortable to have sex in properly?
Maybe a bit too loud for your tastes as well? If you have, you've probably tried memory foam mattresses, but they lack the bounciness to make the experience truly shine.
The hybrid materials used by the TEMPUR Pedic Flex Supreme avoid both of those issues.
There's the necessary bounce which is required to make sex a true blast, as well as the zero-noise and comfort of a memory foam mattress.
Noise
If there is one word to describe the noise levels of the TEMPUR Pedic Flex, then that is silent.
It maintains precisely zero noise almost regardless of how intensely you use it.
There are no springs inside this excellent mattress, lowering the noise even further.
The noise is quite literally on par with a memory foam mattress, which is excellent for one using hybrid materials.
Off Gassing
Off-Gassing is one of the few issues this mattress truly suffers from. Off-gassing is the factory smell many people associate with a new mattress.
While this can occasionally be bad for one's health, it generally isn't very damaging. 
With that being said, the off-gassing isn't too bad nor overly apparent, so unless you really hate it, we wouldn't suggest using this as a reason not to get this mattress.
Temperature Maintenance
Assuming you get the cooled version, the temperature maintenance is quite good.
While it isn't as good as some mattresses which are designed with temperature maintenance as their primary criteria, it performs the task quite well. 
In winter, it'll be slightly warm, and in summer, it'll help you make it through the hot months by providing that little bit of cooling you need.
If you get the cooled version of this mattress, then you can expect excellent cooling even during the hottest times of the summer months.
Comfort
As with most hybrid mattresses, the TEMPUR Pedic Flex is made with comfort in mind.
The medium firmness is ideal for most people, although even people with some slight preferences can enjoy it.
This also makes it a great mattress for couples who prefer different firmness levels.
Regardless, even in its own niche of TEMPUR mattresses, this mattress is a cut above the rest when it comes to comfort.
In our testing, it has appeared absolutely excellent, being rated as one of the best hybrid mattresses of today.
Sleeping Positions
This mattress is ideal for side sleepers. This is because the medium/soft support structure of the mattress is ideal for the position, and puts support in all of the right places.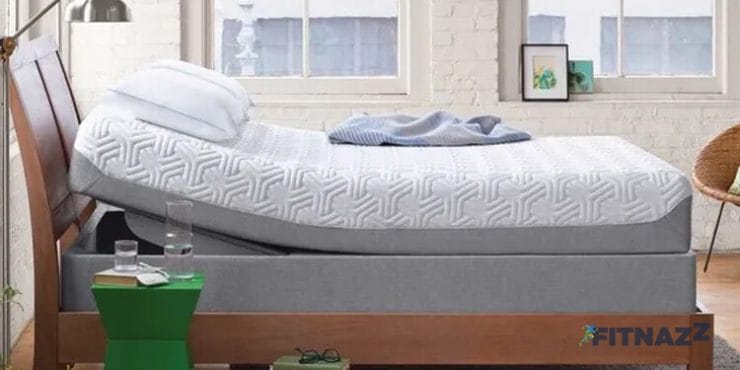 Your shoulders, hips and back will be supported like with few other mattresses on the market today.
If you're suffering from back pain or similar issues, then this mattress might be the ideal pick for you.
With that being said, this mattress isn't half bad for back or stomach sleepers either.
If you're a back sleeper in dire need of support, then this mattress has you covered.
Though it isn't very good when it comes to stomach sleepers, if you're a stomach sleeper you might want to look for a mattress with more firmness to it.
Weight Support
Like most hybrid mattresses, there can be a small issue when plus-sized people use them often.
While they don't deform as much as memory foam mattresses, they will change a bit over time if you're a bit over the optimal weight.
With that being said, if you're looking for a mattress with the features of a memory foam mattress, but don't like the deformation, it's still an excellent pick as it will do it less.
For lightweight sleepers, it might as well be heaven.
The mattress was designed to cater specifically to people of lighter weights and is unlikely to deform even through extended, decade-long use.
Average sized sleepers will also be delighted, as the Supreme model of the TEMPUR Pedic Flex has been designed keeping them in mind as well.
This is why it has such a medium firmness and comfort level, it was simply made for people with a medium weight.
TempurPedic Flex Supreme Review Summary
What We Love About
The hybrid material helps even out the cons to a more manageable degree than other mattresses.
The medium firmness is ideal for most people.
It has excellent support and will contour with ease.
There's almost no motion transfer(nigh-perfect motion isolation)
The construction is so sturdy, the company offers a 10-year guarantee.
What made us sad
There is a certain amount of off-gassing with this Tempurpedic mattress, meaning it might smell a bit off.
The break-in period of the mattress is several weeks long.
It's quite expensive
THE FINAL SAY SO!​
The TEMPUR Pedic Flex Supreme is an excellent mattress for a variety of uses. If you've got a larger mattress budget than most, then this mattress will be just up your alley. We really had to try hard to find cons for it, other than the price. The hybrid nature of the mattress, plus the effort that obviously went into it make for an unparalleled sleeping experience.
This mattress is extremely comfortable, and suited for all kinds of sleepers, although heavier sleepers might have some mild issues with contouring. The company is also very generous when it comes to free samples, assuming you reach them online, so make sure to order the mattress off the internet!

Check Consumer Reviews
Where Should I Get It
You can obtain the TEMPUR Pedic Flex Supreme mattress through multiple avenues. Because it's from a famous, trusted brand, it won't be hard to find it pretty much anywhere you look.

Obviously, you can find the mattress on their official website, which may even incur a discount. It also exists in physical, brick and mortar stores, as well as Amazon. The company is also known for sending out free samples, and it can't hurt to ask!

Keep in mind though, you can only get these free samples online, so we'd advise getting the mattress like that.
Our Picks For You