In the last few years, it has become difficult to get your hands on a mattress that doesn't leave a big dent in your budget. The trends are becoming more demanding. This, in turn, floods the market with luxurious models that aren't worth it. The good thing is that there are companies that appreciate comfort over luxury. Such is the Tuft & Needle brand.
Tuft & Needle mattress is a great choice when you wish to find a good mattress for a less than average amount. If you only want to have a good night's sleep in a good comfortable bed, this is a safe bet. It looks like a regular mattress, but it has more to it than meets the eye. This Tuft & Needle review will give you a good picture of the quality, its performance, and where to get it.
2 Minute Summary
The Tuft & Needle mattress is plain at first sight, of regular firmness and thickness. It serves to provide great comforting with the least amount of sinking. This feature makes it perfect for people with neck and back problems. It is as well good for couples, as it makes almost no noise, and has great movement isolation.
Tuft & Needle mattresses come in two individual models. The Mint Mattress, which is the newest model, and the T & N Mattress is the flagship model.
The Mint Mattress, features a comfort layer of 3.5-inch memory foam infused with graphite and gel. A 3.0 polyfoam transitional layer, and a 1.8 high-density polyfoam support core. The cover consists of a blend of polyester and polyamide. The Mint Mattress is 12″ thick and medium firm on the firmness scale.
T & N mattress consists of three layers of foam. It features a 3-inch polyfoam comfort layer infused with graphite and gel. The second layer is a 1.8-inch high-density polyfoam support core, as well as a polyester/rayon cover. The T&N Mattress is 10″ thick and is medium firm on the firmness scale. It gives the body support and maintains spinal alignment and proper body weight distribution. These layers together make the bed comfortable for light, average, and heavier sleepers. It serves to keep the mattresses form and provides more support to the body.
On top of that, the mattress comes with the Tuft & Needle Cover. It may not seem like an important part of the mattress, but it actually might be. Created from a mixture of polyester and rayon, it gives a soft feel more comfort. It is very elastic and also easy to keep clean.
Features Test
Sturdiness
The durability of Tuft & Needle mattresses is not something to brag about, but it is not subpar either. It has a life-span of around ten years, which makes it equal with other, more costly, foam mattresses.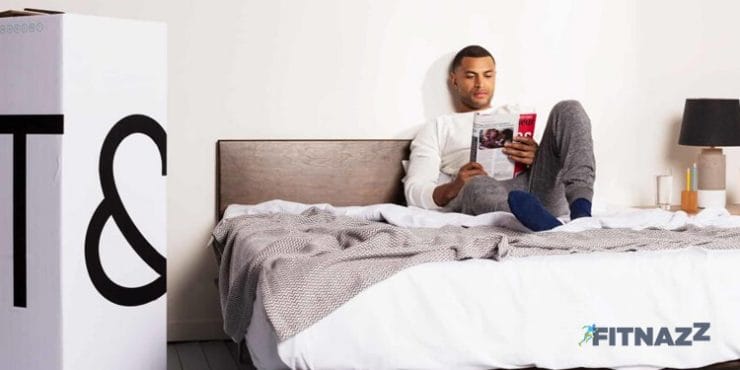 This means that the sturdiness is, well, just about average. It's not significantly higher than its competition. With that being said, it does cost slightly less, making it edge out when it comes to cost/quality calculations.
Motion Isolation
This is one of the strongest points of the Tuft & Needle mattresses. They use two layers of foam so that the transfer of motion is down to the least amount. This makes the bed suitable for couples.
In spite of everything your partner does in bed, it will not inhibit your sleep. This also makes them an excellent choice for light sleepers. Motion isolation reduces the chances of waking up.
Several Tuft & Needle reviews claim they had more pleasant dreams. Reviews also report generally more quality sleep after purchasing the mattress.
Edge Support
As it is usually the case with foam mattresses, the Tuft & Needle has poor edge support. It is prone to premature sinking at the edges where people tend to sit. While it is not awful, it is definitely sub-par.
Sex Quality
Like many foam mattresses, the Tuft & Needle is not very bouncy, which may be off-putting to many people. This may come down to a matter of personal preference. If you do not mind the lack of bounciness, Tuft & Needle mattress is great for you. And it is something that you are looking for in a mattress, then Tuft & Needle is perfect for you.
Noise
The Tuft & Needle makes no noise no matter what you do on it. This is its strongest point, as you may never find another mattress as silent as the Tuft & Needle.
Off Gassing
As with all mattresses, off-gassing is natural when the mattress is first bought. Although, because this is a foam mattress, the unpleasant smell dissipates in a matter of days.
Temperature Maintenance
This bed can feel hot for some. In most cases, it tends to be better than its competitors when it comes to temperature neutrality. The gel-infused layer and breathable cover make it a pretty cool mattress.
Comfort
Another one of the stronger points of the Tuft & Needle mattress is the comfort it provides. The design of the mattress makes it comfortable for most sleepers. No matter the weight, you are sure to find this bed comfortable to a certain extent.
This can be very true for people that have problems with body positioning and back, neck, or hip pains. If we are talking about couples, they will find this bed to be superb.
It gives much room for motion that will not inhibit the sleep of your partner. It will be a generally comfortable mattress for weird sleeping positions.
Sleeping Positions
This review has covered the general comfort of this bed to a great extent. Still, there are things to keep in mind when purchasing it, in regards to the way you sleep. Many Tuft & Needle mattress complaints came about troubles with sleeping on your stomach. To say the truth, though, this came only from people that weigh less than 130 pounds. Side sleepers have found the bed to be quite comfortable, having the right amount of sinking.


Where this mattress shines the most is with back-sleepers. That is when the full effect of its supports system comes to shine, and its support is the best. Surveys showed that sleeping on your back provides the most comfortable with this mattress. Regardless of your weight or build, you will be able to sleep on your back with great comfort. On top of that, some reviewers even stated that it was the best sleep they got in a long time.

To sum up. The Tuft & Needle is best suited for those that like medium firm mattresses. People with problems with parts of their back will find it suitable. It is also well suited for couples. People of varying weights can be comfortable while sleeping on it. It is to say, best suited for individuals weighing between 130 and 230 pounds. It performs well when it comes to most of its features. Its weakest point is the edge support, as it is very prone to premature sinking.
Weight Support
As is the case for most foam mattresses, it has trouble with a proper performance for larger people. It is still comfortable, but not as much as it should be. The small amount of thickness does not work to its advantage either. This makes it even more unsuitable for large people. This, to be honest, we can say for any foam mattress or any other 10-inch mattress.


When this bed's creators made it, they had average-weighted people in mind. When it comes to them, it performs as it should, offering the perfect amount of support where it needs to be. Lighter individuals might find trouble "sinking into" the mattress. They can also have trouble adjusting the body to the mattress itself. This often ends up feeling like you are sleeping on concrete.

This is not to say that lighter or larger people should not buy this mattress, quite the contrary. The mattress is as tall enough, it should be for lighter people to lie on it, and for heavier people to not sink into it.
Where Should You Get It
If you read this review with care and attention, you should be at least a little bit interested in buying it.
They come at quite low prices. 650$ for a Mint Twin bed and 350 for a T&N version. You need to give 695 for a Twin XL Mint version and 395 for the Tuft &Needle. To buy a Full-size bed, prepare 795 $ for the Mint version, and 495 for Tuft&Needle version. Next, 895 for a Queen Size Mint, and 595 for T&N and 1050 for the Mint King or California King, and 750 for the T&N version.
As you can see, they are quite affordable. Something of such high quality at such a low price tag is rarely found.
Tuft & Needle has brick-and-mortar stores in Gilbert and Scottsdale, AZ. As well as Kansas City, KS; Raleigh, NC; and Seattle, WA.
Additionally, you can order online. Tuft & Needle offers free shipping in the US, and it comes with no risk of scamming or getting a damaged package.
Additionally, Tuft & Needle gives you a free trial of a hundred nights. We want to make sure that you are comfortable with your choice.
If you are still interested in buying the product, visit their website. You can make your bed your paradise here.
Tuft & Needle Mattress Review Summary
What We Love About
The mattress provides top-notch comfort, well above average.
It also has great cooling, providing excellent sleep in even the hottest of nights.
It gives outstanding body support.
All this for a below average price which is even cheaper by the free shipping in the US.
What made us sad
The Tuft & Needle mattress has very few options when it comes to firmness.
Its edge support is not the best.
Some reviews on Tuft & Needle mattresses reported them to be too hot for bigger people.
THE FINAL SAY SO!​
The Tuft And Needle mattress is quite an excellent pick. While it isn't precisely perfect, it does offer one of the best memory foam performances out there. It's also much cheaper to get online, which incentivizes many deal-seekers to get this mattress.

The two most important factors to take into consideration are the firmness and comfort. The mattress has very few variations when it comes to firmness, so if the default one doesn't fit you, you might want to pursue a different one. With that being said, if the firmness is alright for you, then you'll feel some comfort that's almost out of this world!

Check Consumer Reviews