Fitnazz is reader-supported. When you buy through links on our site, we may earn an affiliate commission.
Learn more
Is it really one of the best compact treadmills of 2020?
ProForm makes awesome treadmills. From lightweight compact home units to heavy-duty commercial treadmills, they make some of the best machines in the business.
In this article, we'll review Proform 505 CST treadmill, one of the most compact machines from ProForm.
We'll outline some of the key features, break down its specs, as well as look at its pros and cons. We'll touch on some frequently asked questions, and finish up by giving our recommendation on whether or not the 505 CST really lives up to its reputation.
Key Features of Proform 505 CST
Solid Motor
This treadmill is powered by a compact 2.5 CHP Mach Z DC commercial motor that can easily deliver speeds of up to 10 mph.
Even at top speed, the motor runs smoothly and quietly, and it never feels like you're stressing the machine beyond its limit.
With a 0.5mph to just over 10 mph range, the speed of the treadmill is easily controlled by buttons on the console.
One of the features we really like about the 505 CST is that it comes with 10 Quick Speed Controls, which makes it nice and easy to vary your workouts while you're running.
LCD Display
ProForm has upgraded the console display on the 505 CST, which is a real improvement from the previous model.
A 5" two-color backlit LCD display is nice and clear and easy to read in almost all indoor lighting conditions.
The display gives you access to multiple different tabs and display modes which give you the power to focus on and analyze your specific workout.
There's the speed and incline tab, My Trail tab (a virtual 400m track), Calorie Burn tab, and an intensity indicator bar.
The tabs are great features for making it easier to track your progress.
Entertainment Compatibility
The 505 CST treadmill has a bunch of features that make it compatible with many of your entertainment options.
There is a port for your iPod and other mp3 players so you can pump yourself up with your favorite tunes.
The dual 2" speakers housed in the console give great sound and can get really loud if you need some extra motivation.
The tablet holder on top of the console is a nice feature which means you can stream your favorite shows or movies on Netflix or Apple TV and can be connect with ifit coach.
Workout Programs
Another great feature of the this treadmill is that it comes fully stocked with preprogrammed workout routines.
With 19 programs in total, including a manual setting, this has something for everyone.
The workout programs are developed by certified personal trainers and grouped into different categories, including calorie burn, intensity training, speed training, and incline training workouts.
Each category has several programs you can choose from, each with a different intensity or you can use Google Maps running trail across the globe.
If things get a little too intense while you're running to one of the pre-set workout programs, you can opt-out easily by pushing either the incline or the speed button.
Once you've caught your breath, you can resume the program with another simple push of a button.
Lightweight
Weighing only 192lbs, this ProForm Treadmill is actually pretty light for a treadmill, which makes it easy to maneuver into position or if you have to move it when it's not being used.
We would definitely advise getting someone to help you set it up during the initial assembly, as the separate components are big and heavy.
Once it is assembled, the 505 CST feels solid and sturdy.
ProForm put a lot of quality into their treadmills' components, and the 505 CST is no different. So, even though it's a relatively light machine, it is sturdy enough to feel safe while you run.
Adjustable Incline
The maximum incline of the Proform 505 CST is 10%, and it's digitally controlled, which is definitely superior to the manual incline adjustment on some of the competitors' models.
There are also 11 Quick Incline settings preprogrammed into the 505 CST, which makes it easy to learn how to vary your workouts.
Combined with the 0 – 10 mph speed range, the 0-10% incline offers a great range of running workouts from a gentle walk to high-intensity hill sprints.
Heart Rate Monitor
You can keep track of your heart rate while you're running on the ProForm 505 by using the integrated dual KG heart rate monitoring handgrip sensors.
You can also use the iFit Smart Cardio App on compatible devices, though this is subscription-based and requires further payments.
ProShox Cushioning
ProForm's treadmills are some of the most comfortable treadmills in the business to run on.
Their Pro Shox Cushioning technology is an air-based absorption system which responds to a runner's specific movements, reducing impact up to 33%.
Foldable
With its Space Saver design, the 505 CST treadmill comes with EasyLift technology as is super easy to fold and store.
It's also relatively lightweight and compact for a treadmill, which makes it a great treadmill if space is an issue for you.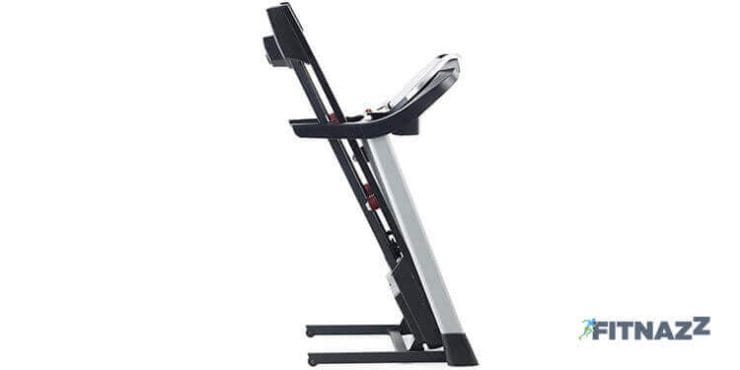 Key Specifications
| Specification | Value |
| --- | --- |
| Motor | 5CHP |
| Running area | 20" x 55.1" |
| Top speed | 10 MPH |
| Incline | 0 – 10% |
| Foldability | Yes |
| User Weight capacity | 325lbs |
| Workout programs | 19 (including manual) |
| Dimensions in use | 74″ L x 37″ W x 60.6″ H |
| Dimensions folded | 7″ L x 37″ W x 67.3″ H |
| Item weight | 192lbs |
| Transport wheels | Yes |
Warranty
You want to get the most out of your treadmill, and it's worth checking out the warranties before you purchase one.
Most treadmills' warranties are separated into their different components – the frame, motor, parts, and labor.
One of the best features of the ProForm 505 is the fact that it comes with a lifetime warranty on the frame.
This is pretty unusual for treadmills in this price range and makes the 505 CST stand out from the crowd. Check out the warranties:
Frame: Lifetime Drive
Motor: 5 years
Parts: 2 years
Labor: 2 years
By properly setting up and maintaining your treadmill, it should be able to last you for up to ten years or 10k miles, depending on use.
This is well designed and well built, and if you take care of it, it will have no problem withstanding the miles.
Proform 505 CST Review Summary
After reviewing the ProForm 505 CST Treadmill, we're definitely impressed. For a compact treadmill at an affordable price, this will stand up to most runner's requirements.
Even though it's light it doesn't feel flimsy, and when you're running on it, you always feel safe. We would definitely recommend the ProForm 505 CST if you're looking for a budget friendly, high quality & compact treadmill.
👍 What We Love About This
Competitive Price
Folding design
Comfortable running surface
19 programs (including manual)
Entertainment capabilities
Adjustable incline
Long-lasting and quiet motor
Lifetime warranty on the frame
👎What Made us Sad
Small running area (20" x 55")
Relatively low max. speed of only 10mph – similar models go to 12mph
LCD screen is relatively basic
No wireless heart rate monitoring
FAQs
1. How much incline does the ProForm 505 CST treadmill have?
The ProForm 505 CST has an incline range of 0 – 10%.
2. How do consumer reports rate the ProForm 505 CST ?
Consumer reports rate the 505 CST well. It's often featured on top 10 treadmills and normally comes in the top 3 best lightweight or compact treadmills.
3. Where can I buy the ProForm 505 CST treadmill?
The 505 CST is available on Amazon and on the ProForm website. But we would recommend to getting it from Amazon.
4. How much does the ProForm 505 CST weigh?
It weighs 192lbs.
5. What are the ProForm 505 treadmill's dimensions when folded?
The folded dimensions of the ProForm 505 CST are 37.7″ L x 37″ W x 67.3″ H.
6. How to unfold this treadmill?
Hold the upper end of the treadmill frame with one hand. On the other hand, pull the latch knob to the left. Swing the frame down a few inches and release the latch knob then lower the metal frame to the floor with both hands.
7. How to use it without iFit?
Turn the machine on and press the Bluetooth button on the console for 30 seconds.