Fitnazz is reader-supported. When you buy through links on our site, we may earn an affiliate commission.
Learn more
We can easily say that the Sole F80 is a foldable treadmill designed with sophistry and excellent features.
This treadmill has a high-quality and durable construct. It provides optimum convenience and efficiency during workouts.
This treadmill has earned many "best buy" owing to its excellent value for an affordable cost. Hence, making it one of the most popular treadmills in the market.
Alongside the Sole F85, the Sole F80 is the Sole's bestselling product. For its price, it provides you with features only high-end treadmills can offer.
But does the Sole F80 treadmill tick all the desired features we desire in the treadmill of its price? Let us delve into the features and find out.
Unique Features of Sole F80
High Power Motor
Sole F80 comes with a high-quality and highly durable 3.5CHP DC type motor. For the treadmill price, its motor is more powerful than its competition. As we all know, a high-power motor leads to higher noise levels.
However, the this treadmill is equipped with a quick response time to reduce motor noise. Furthermore, this motor capacity makes the treadmill suitable for more substantial and longer runs.
It is also adequate for interval training and hill training.
This motor has its speed range between 0.5 to 12 MPH. Additionally, the "rack and pinion" gear design can be inclined to 15 degrees.
As a final point, Sole F80 motor has a lifetime warranty.
LCD screen and Entertainment Options 
Sole F80 model comes with a 9-inch backlight LCD screen. Furthermore, the treadmill is Bluetooth compatible.
As such, you can play music from your phone, tablet, or PC while working out on Sole F80. This treadmill also has a high-quality built-in speaker and a USB port. It can sync with the fitness apps on your smartphone or tablet.
Lastly, you can also play a movie or watch a TV show on its 9-inch screen. All these ensure you are well entertained while working out.
Cushion Flex Whisper Deck
Running on a sturdy surface for long is detrimental to your joints. It could lead to joint aches and, in more severe cases, dislocations.
However, Sole F80 has a Cushion Whisper Technology to combat this possible issue. Precisely, by absorbing pounds, the deck reduces the impact on the joints and back by 40%.
Therefore, the Sole F80 is suitable for heavy persons, swift striding, or long jogging.
Top-quality parts
Sole Fitness is renowned for its high-quality components. Although relatively cheap, the sole F80 did not compromise the quality of Sole Fitness.
This product comes explicitly with commercial-grade parts that will ensure the machine lasts longer.
The Sole F80 motor down to its deck and belt are produced with premium materials.
Furthermore, the shock absorption is also excellent; therefore, deck and motor will last longer than other competition.
As long as its parts are well taken care of, this is a very durable product.
Folding Capacity of Sole F80
If you have a small gym, the sole F80 will adapt to it. Precisely, you can fold this treadmill after use.
This feature is to save gym space and for easy transportation. The problem with foldable treadmills lies in its ease of folding.
However, the sole F80 is easy to fold up. We would later explain how to do it.
Smooth and Large Running Track
Sole F80 treadmill has a running surface measuring 22 x 60 inches. Consequently, it has one of the longest and widest decks in the market. This large deck affords you a convenient and comfortable workout.
Also, the large track makes sole f80 suitable for broader persons. The deck comes with a double-ply belt for improved durability and offers a 2.75-inch roller, thus, reducing noise, wear, and tear possibility.
Lastly, the track is reversible. That is to say, you can flip the deck over if the other side wears out.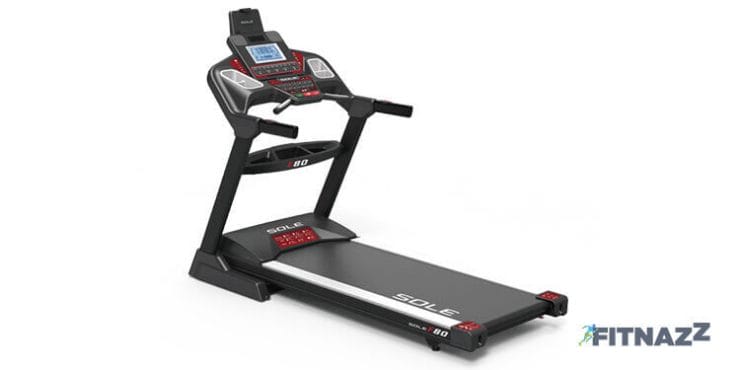 Heart Rate Monitor
There are two ways the Sole F80 provides you with heart rate monitoring. First, an integrated pulse monitor on the handrail.
Second, via a wireless chest strap. Although the wireless chest strap does not come with the machine, you can easily buy it on amazon or from Sole itself.
Speed and incline control
The speed and incline control of sole f80 treadmill is located on its armrest.
The reason being that it is easier to adjust speed levels on the armrest than from the console.
Also, trying to reach the console while at high speed can make you lose balance.
Safety Tool
Workout on treadmills might be dangerous. Imagine losing your balance when the belt is at high speed?
For that reason, the sole F80 comes with a safety cord that is attached to your body. If this cord stretches too far, the treadmill belt will automatically halt.
This feature is excellent for those who consider safety a top priority.
Warranty
Sole F80 comes with different warranty for the device frame, motor, and electronics. These warranties do not span for the same period. Precisely,
| | |
| --- | --- |
| Design | Lifetime |
| Motor | Lifetime |
| Electronics | 5 Years |
As earlier stated, the Sole F80 has a high-quality and durable construct. Every part of this, from motor down to its deck and other parts were improved to increase durability.
Furthermore, Sole supports its machine parts with a five-year warranty. Also, the Sole F80 structure has a lifetime warranty.
However, a good warranty should not make you carefree in the maintenance of the product. As much as your treadmill keeps you fit, ensure you take proper care of the treadmill.
That is, clean it regularly and unplug it from its socket when idle. Also, you can store the treadmill properly whenever you do not use it for a while.
Workout Programs Available on F80
Like every high-end treadmill in the market, the Sole F80 comes with ten workout programs. Six of the ten are classic workout programs.
What we mean by this is that they are pre-installed programs that automatically regulate the treadmill speed and tempo.
This automatic control is aimed to burn calories, improve cardio endurance, or tone your muscles.
The classic pre-programmed programs are; Hill, Manual, Fat Burning, Cardio, strength, and interval.
Furthermore, your heart rate determines two out of ten of these programs. The programs are; Heart Rate 1 and Heart Rate 2. Correctly, Heart Rate 1 works on 60% of the user's maximum heart rate. While Heart Rate 2, 80%.
Lastly, the final two programs are user-defined.
Possible Issues
The designers of the Sole F80 did a great job. Unfortunately, as with all machines, there are some common issues with this one too –
Error code
The error code is a common problem with treadmills. This sole f80 model also has this problem. However, you can clear the error code by reading and following the steps provided in the manual. This issue is not so severe that you'll need to call an engineer. [1]
Slipping Belt
You will need to make a minor repair if your product feels slippery. To fix this problem, you need to align and tighten the running belt. The belts can slip when it is over-tightened or when there is excess friction. You need to ensure that the belt is not loose.
Key Specs
| | |
| --- | --- |
| Motor | 3.5 CHP |
| Running surface | 60" inch X 22" inch |
| Top Speed | 12mph |
| Slope/ Incline | 0 – 15% |
| Foldability | Yes |
| Weight Capacity | 375lbs |
| Workout programs | 10 |
| Dimensions | 82″ L x 37″ W x 57″ H |
| Sole F80's weight | 253lbs |
What Other Customers Say about this
We checked comments that the Sole F80 users made online when using it. Overall, this product has an average rating of 4 stars from about 11 reviews so far on Amazon.
An average of 4 stars shows that the customers are satisfied with the product. Also, from the reviews, it is clear that customers who purchased the Sole F80 found it functional.
Sole F80 Review Summary
👍 What We Love About F80
Powerful and tranquil 3.5 CHP motor
Sizeable 22″ x 60″ running surface
Incline capacity of 15% for increased strength building
Armrest speed and incline control
Excellent Value for Money
Ample Storage for Personal items such as phone, keys, water bottles, etc
Syncs with mobile apps to share data
Smartphone, Tablet, and PC friendly
CushionFlex Whisper Technology for Low Impact
Easy to fold frame
Lifetime warranty on motor, frame, and deck
Very ergonomic interface
Built-in tablet holder
Bluetooth compatibility
USB charging port and High-quality speakers
👎What Made us Sad
Short side-rail
Limited workout features
It is quite heavy to move around
THE FINAL SAY SO!​
With our detailed review and the positive response from customer reviews, the Sole F80 is an excellent product. It is functional and outstanding in performance. Also, the price is very friendly for your budget. It comes with a 30-day money-back guarantee. Overall, Sole F80 is a premium pick, and it gets our full recommendation. Check Consumer Reviews
FAQs
1. Which one is better, Sole F80 vs. Sole F85?
There are only three differences in features between Sole F80 and Sole F85. First, F85 has a 4CHP motor while F80 has a 3.5CHP motor.
Second, the screen sizes are different; the Sole F85 screen is larger than the F80. Third, the F85 supports a maximum of 400lbs weight while the Sole F80 supports 375lbs.
However, by price, the F80 is cheaper than the Sole F85. If you want a budget-friendly treadmill, the F80 is for you. Check Detailed Comparison of Sole F80 vs Sole F85.
2. What is the Continuous motor speed of Sole F80?
The Sole F80 has a continuous motor speed ranging from 0.5 to 12 MPH.
3. What percent of Sole F80 treadmill has a low-speed error?
Only a few out of 876 reviews complained about the low-speed error. As such, this treadmill has minimal low-speed error percentage.
4. How to fold Sole F80
To fold it, make sure the treadmill is at a minimum incline. Then, carefully lift the treadmill running deck until the locking telescoping tube assembly secures it at the base.
Do not attempt to move this unit, except it is in the folded and locked position. Also, to prevent damage, always secure the power cord.
5. How long does this product last?
This treadmill is of a high-quality and durable construct.  Therefore, it lasts for a long time.
6. Is this treadmill noisy when running?
No, it is not. Most of the parts of the this treadmills are welded. There are fewer parts that need connecting with bolts. Hence, with fewer bolted sections, the F80 can stay quiet and not vibrate.
7. How accurate is the Sole F80 heart rate monitor?
The Sole F80 heart rate monitor is very accurate in measurement.