There are a lot of things to admire about the Sole F85.
The Sole F85 has an enormous deck of all Sole Fitness treadmills.
Its heart rate monitor is one of the most accurate in the market.
This treadmill has a powerful 4.0 Continuous Horse Power (CHP) DC type motor. This motor is one of the strongest and functional types in the market.
Also, it can withstand the pounding of runners with a weight of 400lbs. Thus, it is adequate for heavy persons and hardcore runners.
Even broader runners will be convenient in its large 22 x 60-inch deck. It has a charging port, user-friendly 10.1-inch console, and Bluetooth audio speakers.
But then, with all these features, is the Sole F85 an ideal treadmill?
Is it an excellent buy for you?
In this Sole F85 Review, Let's check some of its features, specs & pros/cons –
Unique Features
The Sole F85 has many outstanding and unique features. We looked through some of those features and highlighted them below –
Powerful Motor
The power of a treadmill motor precisely determines how versatile it can be. It has a heavy-duty industrial strength 4.0CHP motor.
Additionally, it has a zinc-coated steel flywheel. Both the motor's strength and its zinc-coating on flywheel make it deliver very smoothly.
Furthermore, it comes with a two-ply woven belt, with four anti-resistant layers. To conclude, this motor is one of the most powerful and durable home-use treadmills available.
Heart Rate Monitoring
There is a common complain that treadmills give inaccurate pulse rate. However, the Sole F85 takes care of this challenge.
It measures heart rate by two methods. First, via its EKG handlebar grips. Although this method is not as accurate as that of the chest strap.
Second, it comes with a free, high precision, polar rate monitoring chest strap.  This chest strap boasts of a 99.9% accuracy.
Lastly, you can use the touch pulse sensors to get accurate heart rate levels by age, gender, and weight.
CushionFlex Whisper Deck
Irrespective of the frequency of use, running on hard surfaces will cause joint concerns.
Like other Sole treadmills, the F85 uses its patented Cushion Flex Whisper Deck to tackle this problem.
Unlike outdoor training surfaces, its deck can reduce joint impact by 40%.
Precisely, the deck absorbs the pounding from jogging or running. Lastly, the reduction rate of Sole F85 is far higher than what its competition provides.
High-Quality Parts
The Sole Fitness crafted the F85 with high-quality parts. These high-quality parts are also durable and highly functional.
Designers made this treadmill with the sophistication of elite commercial treadmills. However, it will meet your fitness and training needs.
Console of Sole F85 Treadmill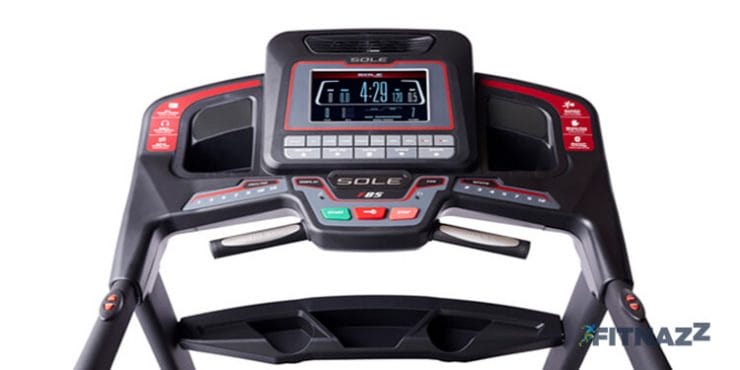 It comes with a 10.1-inch backlight LCD screen. The display console has a smart layout.
The main body of the screen is dark blue-black.  Also, the screen has white lettering contrasting sharply with the backdrop.
It displays speed, heart rate, pace, calorie burn, incline, and more. Furthermore, its console has a ¼ mile track feature and a peak/valley graph.
Lastly, it has Bluetooth audio speakers and a port for iPod or MP3 players.
75-inch Crowned Rollers
A large roller surface affords lesser revolution, then reduces wear and tear resistance on the belt.
It will also reduce the noise when the treadmill is in use. Furthermore, the motor, bearings, and rollers will last longer with minor revolution.
The Sole F85 rollers are not just large; they are also "Crowned." Crowned rollers mean that the large roller is even more prominent at the center.
As such, the belt can track efficiently, reduce adjustment needed, and improve durability.
Wide Tread belt
This treadmill has a belt measuring 22 x 60-inches.
This length is suitable for individuals with long strides. It is also perfect for running and jogging. Furthermore, its wide 60-inch surface is very convenient for broader persons.
A vast tread belt like this one is found only on commercial-grade treadmills. However, the Sole F85 comes with it.
Incline and Speed Control on Handlebars
Another outstanding feature of the Sole F85 is its incline and speed control location.
The speed and incline controls are on the handlebar instead of the console.
This location is excellent because changing incline or speed on the console while the belt is at high speed may be dangerous.
Folding Capacity
This treadmill has a foldable deck; for efficient space management and easy transportation.
However, unlike most of its competition, the Sole F85 is easy to fold. We will show you how to fold it as you read on.
Workout Programs on the Sole F85
Like every Sole treadmill in the market, the Sole F85 has ten workout programs. The initial five of the ten are classic workout programs.
Specifically, the classic programs are pre-installed programs with automatically regulated treadmill speed and tempo.
These automatically regulated programs are aimed to tone your muscles, burn calories, or improve cardio endurance.
The classic programs are Hill, Fat Burning, Cardio, strength, and interval.
Secondly, the user's heart rate regulates two of the remaining five programs. These heart rate- regulated programs are Heart Rate 1 and Heart Rate 2.
Precisely, Heart Rate 1 works on 60% of the user's maximum heart rate while Heart Rate 2, 80%.
Thirdly, there are two user-defined programs. Lastly, it has one manual-control program.
Possible Issues Associated
As with any product out there, there are a few common issues with this treadmill namely –
Display does not light
There are a few things that might affect your display light. First, the tether cord may not be in position.
Secondly, maybe the circuit breaker on its front is tripped. Thirdly, your plug might be disconnected, or your household circuit breaker tripped. Lastly, the treadmill might be defective. [1]
Solutions for each are; first, position tether cord properly.
Second, push in the circuit breaker until it locks.
Third, make sure the plug is pushed in and connect your home circuit breaker.
Last, contact your Sole dealer. [2]
Low-speed error
The low-speed error code is a common issue with most treadmills.
Although the designers of the F85 did a great job, they could not prevent this issue. However, this problem is an easy fix.
Your Sole F85 manual has prescribed steps to fix the low-speed error issue.
You do not have to sweat over this issue. [3]
Key Specifications
| Specification | Value |
| --- | --- |
| Motor | 4.0 CHP |
| Running surface | 60" inch X 22" inch |
| Top Speed | 12MPH |
| Slope/ Incline | 0 – 15% |
| Foldability | Yes |
| Weight Capacity | 400 lbs. |
| Workout programs | 10 |
| Dimensions | 80″ Length x 35″ Width x 58″ Height |
| Sole F85's weight |  265 lbs. |
Warranty
Sole F85 has a warranty for its device structure, electronics, and motor. However, the warranty span is different. They are:
-Design:                                               Lifetime
-Motor:                                                Lifetime
-Electronics:                                       5 years
The Sole Fitness provides one of the best warranties in the industry. That is because they fully trust and stand behind the construct and durability of their products.
Also, this treadmill has additional warranty support, namely, a lifetime warranty on its deck, 5-years on parts and 2-years on in-home labor.
Customer's Reviews
We looked at some online comments made by Sole F85 owners.
The Sole F85 has an average of 3.8 stars from 99 reviews on Amazon.
An average of 3.8 stars is not bad at all. Precisely, most of the low-star ratings came because of poor customer service.
Also, very few complained about product functionality or performance.
Sole F85 Review Summary
What We Love About
Easily foldable with a Hydraulic Assist
Commercial-grade 4.0 CHP motor
Roomy 22″ x 60″ running surface
Excellent 30 levels Power Incline
Comes with free wireless pulse transmitter
Syncs with mobile apps to share data
Bluetooth Audio Speakers
USB Charging Port and built-in table holder
Patented CushionFlex Whisper Deck
Lifetime warranty on motor, frame, and deck
Accurate Heart Rate Monitor
In-home labor and great customer service from Sole
What made us sad
Short Siderails
Limited workout programs
Still large after folding
THE FINAL SAY SO!​
The Sole F85 Treadmill is one of the bestselling treadmills of all Sole Fitness treadmills. The reason for this is that it has excellent performance and durability. It also comes with a 30-day money-back guarantee. All in all, this treadmill is functional, durable, and excellent in performance. Thus, it gets our full recommendation.

Check Consumer Reviews
Frequently Asked Questions (FAQs)
Where to buy Sole F85 treadmill ?
You can buy the Sole F85 on amazon.
How much does the Sole F85 weigh?
The Sole F85 weighs 265 pounds.
Sole F85 dimensions when folded ?
The full dimension of the Sole F85 when folded is 43.9" x 36.8" x 74.2" inches (L x W x H)
Which is better? Sole F80 vs. Sole F85
There are just three differences between the Sole F80 and Sole F85.
For a start, Sole F80 has a 3.5CHP motor while Sole F85 has a 4.0CHP motor. Also, the LCD sizes are different; the Sole F80 screen is smaller than the F85. Lastly, the F80 supports a maximum of 375lbs weight while the Sole F85, 400lbs.
However, the Sole F80 is cheaper than the Sole F85. Check Detailed Comparison Here.
How to Fold Sole F85
To fold the Sole F85, make sure the treadmill is at a low incline. Next, lift the treadmill running deck until the locking telescoping tube at its base secures it.
Other Treadmill Reviews